Regular price
£130.00 GBP
Regular price
Sale price
£130.00 GBP
Unit price
per
Sale
Sold out
T&Cs

Please read our Terms and Conditions carefully before purchasing any of our classes. By ordering a class from our website, you are confirming your agreement to be bound by the Terms and Conditions. These Terms and Conditions do not affect your statutory rights as a consumer.

Payment

Payment must be made on our website in advance and in full at the time of class booking. We are unable to take bookings over the phone or via email.
Payment for all orders must be paid by Credit Card, Debit Card or PayPal.
You will receive a confirmation email after you have made payment. You must bring this confirmation email with you to the class.
LissieLou reserves the right to amend or increase any prices at its own discretion and without notice. Prices may change at any time; this will not affect any classes that have already been paid for.
All amounts are payable in Pounds Sterling. The prices quoted are inclusive of VAT. Any currency conversion costs or other charges incurred in making a payment shall be borne by you.
Unfortunately, we are unable to hold or reserve places
LissieLou gift cards can be used to purchase a class. Any additional monies required will need to be paid at the time of booking.

Cancellation

Once you have paid for a class, we are unable to give a refund. You can, however, receive a credit note if you cancel your place up to 21 days prior to your class.

Health and Safety

Please read our Health and Safety instructions when you arrive. All customers will also receive a short briefing on health and safety before commencing the class.

Noting that we are based on a working farm, please take care when moving between your car and our building. Children also visit this farm so you must drive on site with great care; there is a 5mph speed limit.

You should comply with food preparation standards, such as keeping your work surface clean, cleaning your hands appropriately, keeping your hair tied back. Any ingredients LissieLou provide are 'in date' products.

All customers should wear shoes with flat, non-slip soles and covered toes, preferably leather. We cannot admit you to the School without proper footwear. We recommend wearing sensible clothing, i.e. not your best outfit - we are not liable for any damage that occurs to clothing. Long hair must be tied back in the School.

Smoking and vaping are not permitted inside our School. You must only smoke or vape in the allocated locations.

The taking of drugs is strictly prohibited on the site. Alcohol consumption is also prohibited unless provided as part of your class.

Animals are not permitted inside the school.

Dietary

We may not be able to accommodate for all dietary requirements. Please contact us before you book your class if you have any specific requirements.

Medical Conditions

Our studio is located on the first floor, although we do have a lift. Please do note that we are on a working farm and the car park can be bumpy and very muddy.

Please inform us in advance of any allergies, disabilities, diabetes, pregnancy, epilepsy, learning difficulties etc. If you have a severe allergy (including, but not limited to, nuts, dust or animal hair). Please consider whether this is an appropriate environment for you before booking.

Changes to our classes

We reserve the right to change the price of our classes at any point.

On the rare occasion that the advertised Baker is unable to teach the class, we will find a suitable replacement and notify you as soon as we can.

The listing image for each class is an example of the style of cake or cookie you will make. LissieLou reserves the right to change a design and style of the final product you will make during the class.

 Attendance/Behaviour

The minimum age to attend a class is 16 years old by the day of attendance. Any attendee under this age will be asked to leave and no refund will be given.

Any attendee who is intoxicated or disruptive, abusive or violent towards our Teachers or LissieLou members of staff will be asked to leave. In such circumstances, no refunds will be given.

Attendees must comply with reasonable instructions and directions given by our Teachers or LissieLou members of staff.

Your class purchase entitles only one person to attend the class. No other individual will be allowed to access the premises.

If you require a carer to attend with you, please contact us before you book.

Liability

LissieLou accepts no responsibility for the loss or damage of any personal property or for any liability (to the fullest extent permitted by law). Please do not bring any valuables with you, including jewellery that you may wish to remove when baking.

LissieLou will not be liable for any loss or illness suffered by you which is indirect, special or consequential.

LissieLou is not responsible for your vehicle in the car park. Please do not leave any valuables on display in your vehicle.

Photography

Under no circumstance can our classes to be recorded by any means. You are welcome to photo your own work and post this on social media.

LissieLou may take photographs and videos during the class. Should you wish not to be photographed, please tell us at the time. We may use these photographs on our website or social media, but are not limited to these.

Copyright / Acceptable Usage

Full copyright of class content is retained by the School and Teachers. Any class notes/reference material are provided to support customers with their own ongoing baking development and are issued for personal use only.

Considerable work has gone into the development of our classes. The sharing of class materials by print, press, photocopy, email, blogs, internet or any digital transfer medium is strictly prohibited without the express written permission of the Directors of LissieLou. If in doubt, please ask about what is, and is not, acceptable usage.

General

LissieLou reserves the right to vary the terms of these Terms and Conditions for specific classes. Any such variations will be notified to customers prior to or on arrival at the School.

We have done our best to ensure our descriptions and content on our Cake School website is accurate, but we cannot be held responsible for any errors.
Share
View full details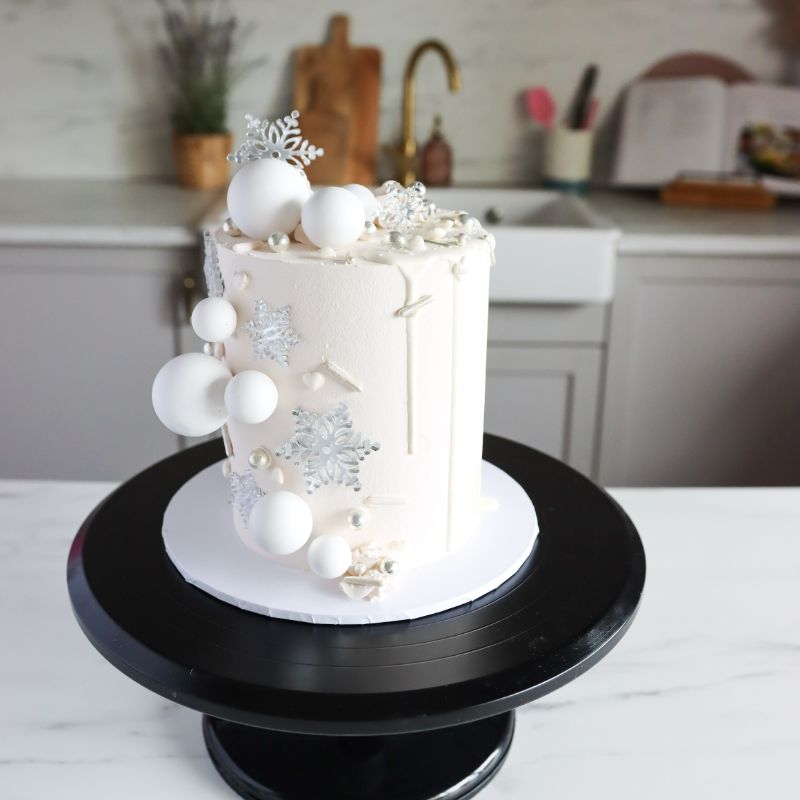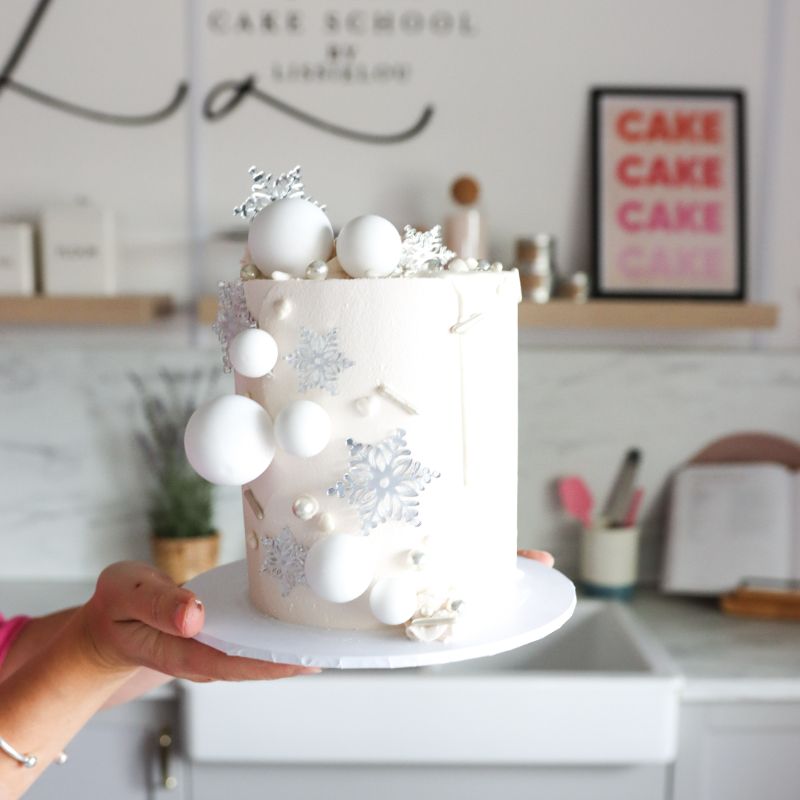 Information about your Class
Class Length: This is a 1 day class and will run from 10am - 4pm
Class Skill Level: This class is suitable for baking beginners.
What will you be making: Get into the festive spirit with our Winter Wonderland Christmas Cake Decorating Workshop! Join us for a fun-filled class that not only ignites your festive joy but also equips you with a bundle of essential baking skills. Dig out your Christmas jumper and secure your spot in this delightful workshop.
In this hands-on class, you'll learn how to transform a simple vanilla cake into a stunning masterpiece. We'll guide you through the process of applying luscious buttercream, creating chocolate drips, crafting elegant buttercream swirls, and adorning your cake with a sprinkles. Add acrylic snowflake cake motifs and cake balls for the finishing touches.
You'll receive a step-by-step recipe to take home, ensuring you can recreate this masterpiece whenever the mood strikes.
Join us and impress your friends and family with your newfound cake decorating prowess.

After the class: You will take home a beautifully decorated 5" vanilla cake in a box which will feed 12-16 people.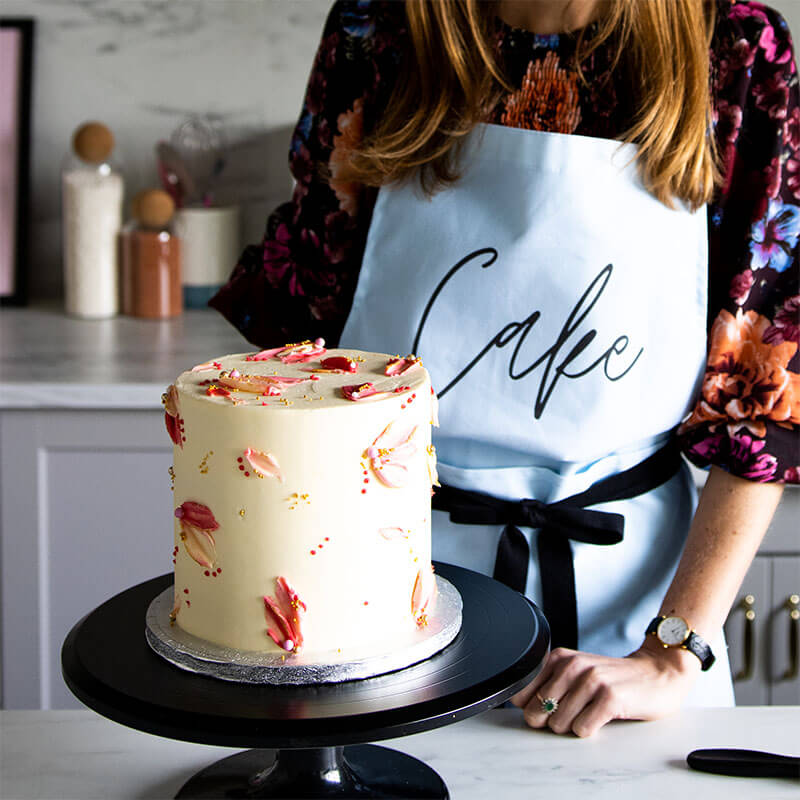 What will you learn?
Learn how to make delicious buttercream
How to layer, fill and crumb coat your cake
How to apply the final coat of buttercream and achieve sharp edges
How to do stunning chocolate drip
How to apply sprinkles to your cake
Add cake balls and cake motifs for the finishing touches
A flawless vanilla cake recipe which will be supplied to you. Baking will be done in advance, but recipe cards will be given out
Industry Leading Bakers

The Cake School by LissieLou hosts some of the best bakers in the industry, each with their own specialisms and styles.

Everyone's Welcome

From luxuriously decorated wedding cakes to realistic flower crafting with sugar to the ultimate cupcakes... there is something for everyone at any skill level.

Community

The Cake School by LissieLou is more than a place to learn, it's a community and students are invited to be a part of it.